Andropenis® Penis Extender. How to fit a penile extender. Andropenis is a extender easy to wear throughout the day and remove as needed. It is very discreet, comfortable and may be worn while walking, sitting and standing. Andropenis penis extender can be used 9 hours a day, taking a break when needed.
Insert one of the silicone band models that best fits within the appropriate protective pad according to the size of the penis. The use of the protective cushion is COMPULSORY. Introduce the ends of the silicone band into the holes at the back side of the upper plastic support, so that the band forms a loop.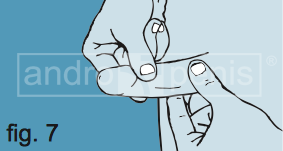 With the penis flaccid, slide all the foreskin (uncircumcised men), onto the shaft (fig. 7) and place the silicone ring below the crown of the glans where it meets the shaft of the penis (fig. 8).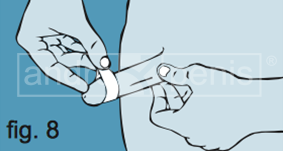 The glans should not come into direct contact with the device. Next, stretch the penis away from the body so that it is length- ened whilst flaccid.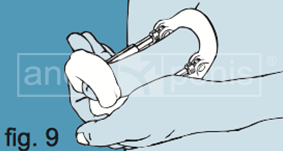 Take the base ring (piece 1), maintaining the narrowest part of the ring facing upwards. Fit the penis through the base ring (piece 1), and rest it in the depression of the upper plastic sup- port (piece 13). Place the left hand on the upper support (piece 13) and push the device against your body, compressing the internal springs (fig. 9).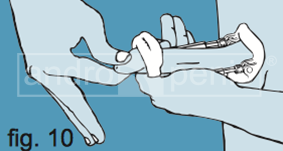 While keeping the left hand in position, use the fingers of your right hand to pull the glans through the loop formed by the silicone band (fig. 10).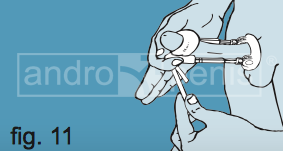 Place the thumb of the left hand on top of the glans to main- tain the penis in place while gradually shortening the silicone loop by pulling on both ends of the band with the right hand (fig. 11).
Slowly pull the skin on both sides of the penis towards your body to avoid pinching the skin or leaving a fold over the groove of the glans. The silicone loop should be fitted on and in line with the groove of the glans without hurting but tight enough to keep the glans from slipping out. Carefully secure the silicone band in the fasteners on the underside of the upper support by, stretching the tape each time you press within the recesses. Tighten but do not pull downwards in order to avoid pinching the penis.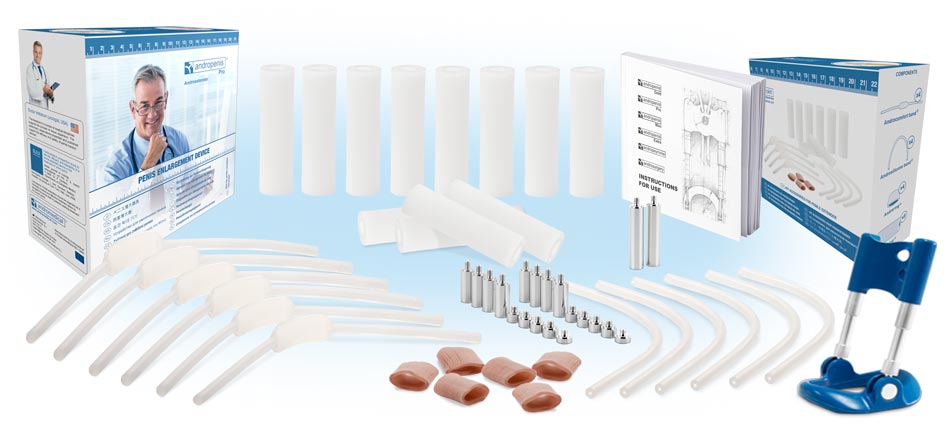 $99 / €99 / 89£ / 149 AU$-CA$. Free Shipping