Dr. Eduardo Gomez de Diego researched for several years and created patents on the penis traction device. His prestige made him a reference in the world of andrology or sexual medicine for men.
For centuries, in many cultures man has attached great importance to his body, especially the size and shape of his penis. And for centuries, fertility has been associated with the penis. In Greece and Rome was a sign of prosperity and being able to have a large penis, and was also considered blessed by the gods for it. But his superstitious concept was lost, and only the pride of having a big penis remained in man.
Psychologist F. Molina-Campuzano was the first to define "wardrobe syndrome," which is a man's sense of inferiority for having a small penis when compared to other men in the wardrobe. Being the man aware that he has a small penis, this fact generates inferiority complex and it is believed that he is not capable of sexually satisfying his partner. In more extreme cases, a feeling of insecurity and guilt may be generated.
At the end of the 20th century, Dr. Gomez de Diego, in his men's health clinic, discovered the great interest of a third of patients to enlarge their penis. After researching many medical techniques aimed at tissue growth, the doctor determined that traction would be the best method to enlarge the penis. Twenty-two years ago, Dr. Eduardo Gómez de Diego invented the penis traction device, called ANDROPENIS, for the treatment of penis enlargement. More information in: Penis extender
Dr. Gomez de Diego discovered that the best way to use this technique was to apply light traction for several hours a day. In this way, tissue growth was gradual and compatible with the activities of daily living. The results were that the penis grew several centimeters in both length and thickness, and there were no side effects.
Dr. Gomez de Diego also found another very important indication for this technique, remodeling with penile traction therapy (PTT), using an adapted device called ANDROPEYRONIE, which reduces penile curvature by 60% in Peyronie's disease. Find out more: Peyronie extender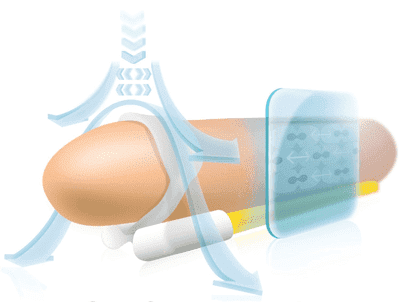 Dr. Gomez de Diego analyzed in 2019 the market for penis extenders, and found that there are cheap products of poor quality or extenders not suitable for human use. The doctor verified that some extenders do not use medical materials (being able to produce allergies), or use a traction much superior to the recommended 1.500 gr. (being dangerous to put a lot of traction, because the tissues of the penis can be damaged) or they do not recommend the 8 hours of use each day that are ideal to obtain the results (since with a few hours of use the results are very scarce).
Penis extenders are external fixation devices that are placed along the shaft of the penis. These devices generate a light and progressive traction, being easy to use and comfortable. Penis extenders use the principle of traction to grow penile tissues. These devices are a good alternative to penis enlargement surgery, as it is a non-invasive treatment.
Dr. Eduardo Gómez de Diego says: "We have been completely satisfied with ANDROPENIS and ANDROPEYRONIE for more than 20 years. These products are medical devices, and patients should be supervised by a physician."
Penis enlargement with Andropenis® is an effective therapy. There are many penis growth products on the internet, but very few are serious and real. There are pills, creams, weights and other devices on Google or Yahoo, but the methods that really work and are scientifically proven are Andropenis® and Andropeyronie®.
ANDROMEDICAL ( www.andromedical.com ) is a medical laboratory with more than 20 years of experience in male health. Andromedical only recommends therapies with effective and scientifically proven products. We have treated thousands of patients in our clinic, listening to their needs for over 20 years. Our laboratory has analyzed the safest and most effective techniques for the satisfaction of our patients.
Dr. Eduardo Gomez de Diego was the inventor of penis traction devices. The doctor has world-wide recognition, being one of the most important referents in andrology and member of different societies of sexual medicine of several countries. Andromedical continues to investigate different urology treatments such as post-operative Peyronie's disease, prostatectomy, etc.